Welcome to Kalkaska Kair!
Kalkaska Area Interfaith Resources (KAIR) is an all faiths, community based volunteer organization that provides practical assistance to the qualified elderly, frail, disabled, isolated and needy of Kalkaska County.
Please Note: KAIR food pantry services are curbside Monday, Tuesday, Thursday, and Friday from 10am to 3pm due to COVID-19 regulations. If you are in need of food pantry services, please call 231-258-0060 Ext. 4. We request you come to the food pantry lobby to pick up your food.
Located Downtown Kalkaska, 324 S. Cedar St., across from the Trout Fountain
Serving a Need, in Our Community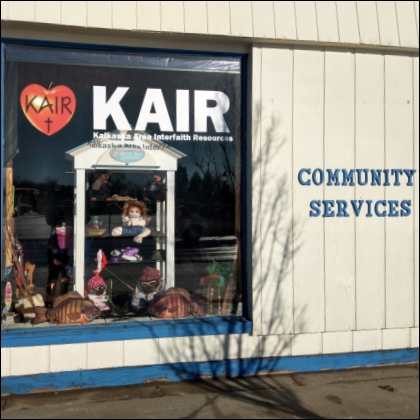 Resale Store: Monday, Tuesday, Thursday, and Friday, 10am to 4pm
Food Pantry: Monday, Tuesday, Thursday, and Friday, 10am to 3pm
Client Services: Monday, Tuesday, Thursday, and Friday, 10am to 2pm. Closed Wednesdays.
Announcement:
KAMPOUT for KAIR
Sponsored by Bill Marsh
October 3rd–October 8th
All donations purchased at our local Stores–Kalkaska Northland Food & Family Center, Kalkaska Family Fare,  and Acme Meijer will help feed people in our community through KAIR food pantry and community meal site.  Thank you for your support of our mission!
Amazon donates 0.5% of your purchase price of eligible products through
AmazonSmile
to KAIR when shopping through
smile.amazon.com
. Donations received through
AmazonSmile
Support KAIR Food Pantry and KAIR Ladles of Love meal site. We appreciate your generosity!